Introduction & Profile of Master Trainers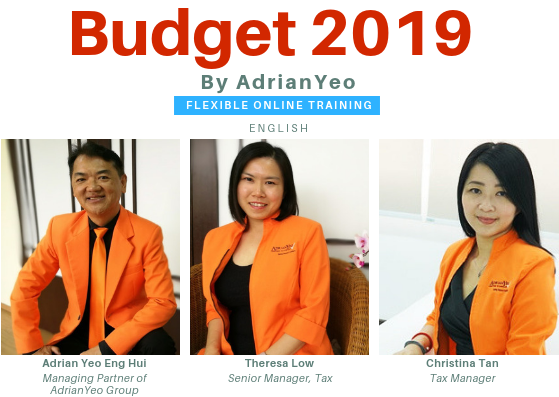 Date of Seminar Recording: 14 November 2018 (9:30 am)
INTRODUCTIONS
Malaysia's Budget announcement will be on 2 November 2018. Our new government is expected to bring about many changes to our taxes. What will be the changes in taxes, incentives and strategies that will be announced by our new Finance Minister, Lim Guan Eng? Our tax and SST consultants are delighted to share with you the changes to be announced and their thoughts on these.
SPEAKERS:
Adrian Yeo Eng Hui
Managing Partner of AdrianYeo Group
CA(M), FCCA(UK), CPA(M), MBA(UK), FCTIM(M), Adv Dip Fin Acct (TARC)
Adrian is friend to all businessmen. He is simple, sincere, quick with numbers and has a big appetite for learning. After high school, he worked as a salesman for 3 years. Later he pursued an accountancy course in TAR College after which he successfully completed the ACCA professional course in London.
Upon graduation, Adrian worked for two astute Jewish Chartered Accountants firms in London for a total of 7 years.
In 1993, he returned to join KPMG for 2 years, where he was team leader for audit and corporate exercises of listed companies and multi-national corporations.
In 1995, he started Adrian Yeo Consultancy providing advisory services. In 1998, he started Adrian Yeo & Co, where audit and tax are the core services.
Adrian sat in Boards of listed companies as Independent Director previously.
Adrian is active in professional associations and alumni. He holds or held the following positions:-
Member of Board of Governor, TAR University College
Ex-Officio member of TAR University College Education Foundation
President of Federation of TAR College Alumni Associations, Malaysia
President of School of Business Studies Ex-Students Association, TAR College
Council member of Chartered Institute of Taxation Malaysia (2005-2013)
Council member of Chartered Association of Certified Accountants, Malaysia (2008-2009)
Chairman of Public Practice Committee, Chartered Association of Certified Accountants, Malaysia. (2007-2009)
Adrian is a speaker on the subject of taxation and financial matters both in English and Mandarin. He also writes on the topic of entrepreneurship for a Chinese magazine.
Christina Tan
Tax Manager
ACCA(M)
Tax Manager of AdrianYeo Tax Sdn Bhd, a chartered accountant with has over 10 years of experience specialized in tax and accounting.
Theresa Low
Senior Manager, Tax
CA(M), ACTIM, BAcc(UM)
Theresa has over 13 years of working experience in areas of Malaysian and international tax, audit and accounting with a Big 4 International firm, a large listed group and AdrianYeo Tax Sdn Bhd.
She handles tax advisory and compliance matters including tax audit, tax incentives, withholding tax, RPGT, etc for MNCs, listed companies, SMI and entrepreneurs.
She is a speaker and trainer in corporate tax and personal tax