Introduction & Profile of Master Trainers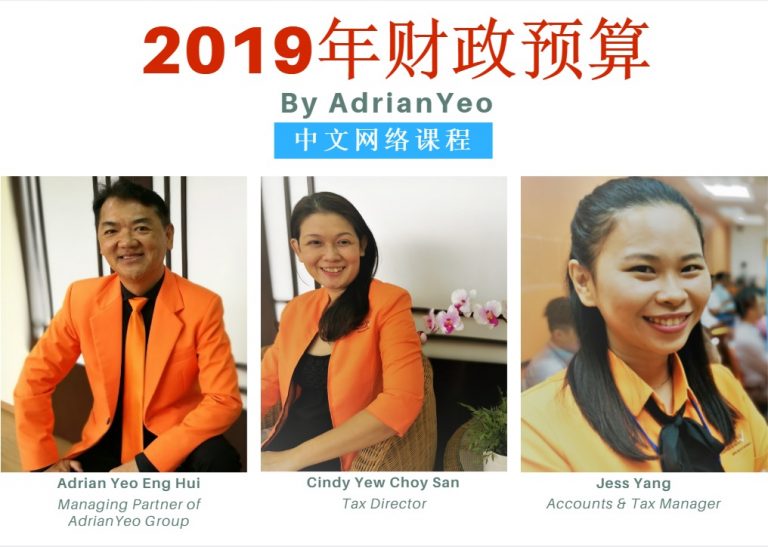 Date of Seminar Recording: 14 November 2018 (2pm)
INTRODUCTION
马来西亚2019年财政预算公告将于2018年11月2日公布。我们的新政府预计将对我们的税收带来许多变化。我们的新财政部长林冠英将宣布税收,激励措施和战略的变化是什么?我们的税务,销售和服务顾问很高兴与您分享将要公布的财政预算以及他们的看法。
SPEAKERS
Adrian Yeo Eng Hui
Managing Partner of AdrianYeo Group
CA(M), FCCA(UK), CPA(M), MBA(UK), FCTIM(M), Adv Dip Fin Acct (TARC)
Adrian is friend to all businessmen. He is simple, sincere, quick with numbers and has a big appetite for learning. After high school, he worked as a salesman for 3 years. Later he pursued an accountancy course in TAR College after which he successfully completed the ACCA professional course in London.
Upon graduation, Adrian worked for two astute Jewish Chartered Accountants firms in London for a total of 7 years.
In 1993, he returned to join KPMG for 2 years, where he was team leader for audit and corporate exercises of listed companies and multi-national corporations.
In 1995, he started Adrian Yeo Consultancy providing advisory services. In 1998, he started Adrian Yeo & Co, where audit and tax are the core services.
Adrian sat in Boards of listed companies as Independent Director previously.
Adrian is active in professional associations and alumni. He holds or held the following positions:-
Member of Board of Governor, TAR University College
Ex-Officio member of TAR University College Education Foundation
President of Federation of TAR College Alumni Associations, Malaysia
President of School of Business Studies Ex-Students Association, TAR College
Council member of Chartered Institute of Taxation Malaysia (2005-2013)
Council member of Chartered Association of Certified Accountants, Malaysia (2008-2009)
Chairman of Public Practice Committee, Chartered Association of Certified Accountants, Malaysia. (2007-2009)
Adrian is a speaker on the subject of taxation and financial matters both in English and Mandarin. He also writes on the topic of entrepreneurship for a Chinese magazine.
Cindy Yew Choy Shan
Tax Director
CA(M) ACTIM ACCA
Cindy heads the tax compliance division. She ensures that clients comply with tax requirements and proactively plans ahead for clients, ensuring that they maximize their tax allowances and incentives whilst minimize their tax liabilities.
Cindy has a well-rounded 19-years' experience, of which 3 years were in commerce and bank, whilst the last 16 years, she has been passionately pursuing a career in tax.
Cindy handles tax audits and investigation cases for clients, advises on various tax incentives and is a speaker in tax and GST topics.
Jess Yang
Accounts & Tax Manager
CA(M), ACCA(M), ACTIM
Tax Manager of AdrianYeo Tax Sdn Bhd, a chartered accountant with has over 7 years of experience specialized in tax and accounting.