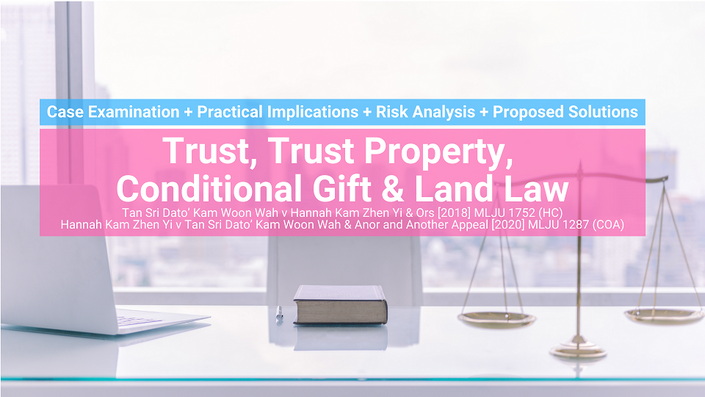 (English) Trust, Trust Property, Conditional Gift & Land Law (Case Analysis: Hannah Kam Zhen Yi v Tan Sri Dato Kam Woon Wah & Anor) by Azhar Iskandar Hew (Rockwills Malaysia)
Training Duration: 2 hours 59 minutes
Watch Promo
Enroll in Course
RM 29 for Public
RM 10 for Rockwills Business Solutions (RBS Member) Only

For Credit Card Payment, click Orange Enroll Button Above this Sales Page. 👆👆👆
For Online Bank In, click this link 👉 https://learnabee.com/p/bank
For FAQ, click this link 👉 https://www.learnabee.com/p/faq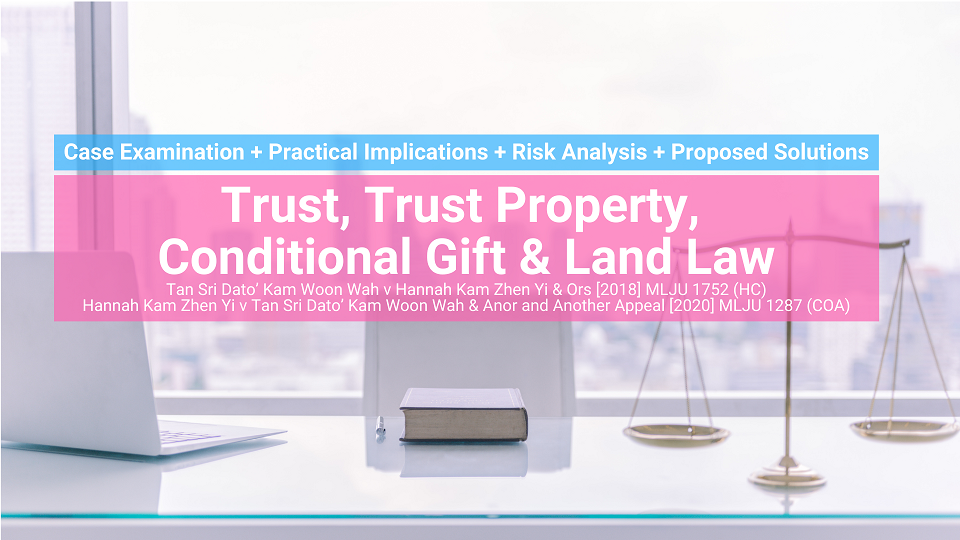 Webinar Title: Trust Property, Trust, Conditional Gift & Land Law
Court Case Analysis: Hannah Kam Zhen Yi v Tan Sri Dato Kam Woon Wah & Anor and another appeal
If you can't make it to our live webinar, no worries, we have replay & recording for you.

RM 29 for Public
RM 10 for Rockwills Business Solutions (RBS Member) Only
#01 The Law
Where a gift is subject to a condition and the condition is breached, in principle, the gift comes to an end.
#02 Parties
Plaintiff v 2 Defendants
Property
Plaintiff's Witness
Others
Relationship between Parties
#03 Overview of the Case
The Property Transfer
The Court Trial Process
Plaintiff's Main Suits
Defendants' Counterclaims
#04 Chronology of Events
31 May 2017 - 4 April 2018
#05 Plaintiff's Notice of Application (NOA)
Extension of Caveat
Defendants' Opposed to NOA
Defendants' Appeal to Court of Appeal
#06 Issues
1st issue: Can the Donee re-transfer the Property back to Donor ?
Cohen v Sellar [1926] 1 KB 536
Conditional gift - Breach of condition - Shall Gift be returned ?
Court decision
2nd issue: Whether Oral Evidence Admissible in Court?
Section 92 Evidence Act 1950: Exclusion of Evidence of Oral Agreement
Tan Chong & Sons Motor Co. Sdn Bhd v. Alan McKnight [1983] 1 MLJ 220
Court decision
3rd issue: Can the Caveat be extended ?
Luggage Distributors (M) Sdn Bhd v. Tan Hor Teng & Anor [1995] 1 MLJ 719

3 stage test

Caveatable Interest ?
Serious Questions To Be Tried ?
Balance of Convenience ?
4th issue: Does Grandfather have caveatable interest against the property ?
Whether Grandfather can invoke S326(2) & S323 (1)(a) National Land Code 1965 ?

Section 326(2) Removal of Private Caveats by Registrar
S. 323(1)(a) Application for Entry of Private Caveats
S. 323 (1) (a) - Caveatable Interest
Court held
5th issue: Are there serious questions to be tried ?
6th issue: Where does the Balance of Convenience lies in this case ?
- Section 326(2) Removal of Private Caveats by Registrar
#07 Conclusions
#08 Points of Discussion
Conditional Gift - What is it? How does it work?
What will happen to the asset or property if conditions set out in the will are void and unenforceable?
Absolute Gift - What is it? How does it work?
Testamentary Trust - What is it? How does it work?
Types of Testamentary Trusts
Absolute Gift, Conditional Gift and Testamentary Trust - Pros and Cons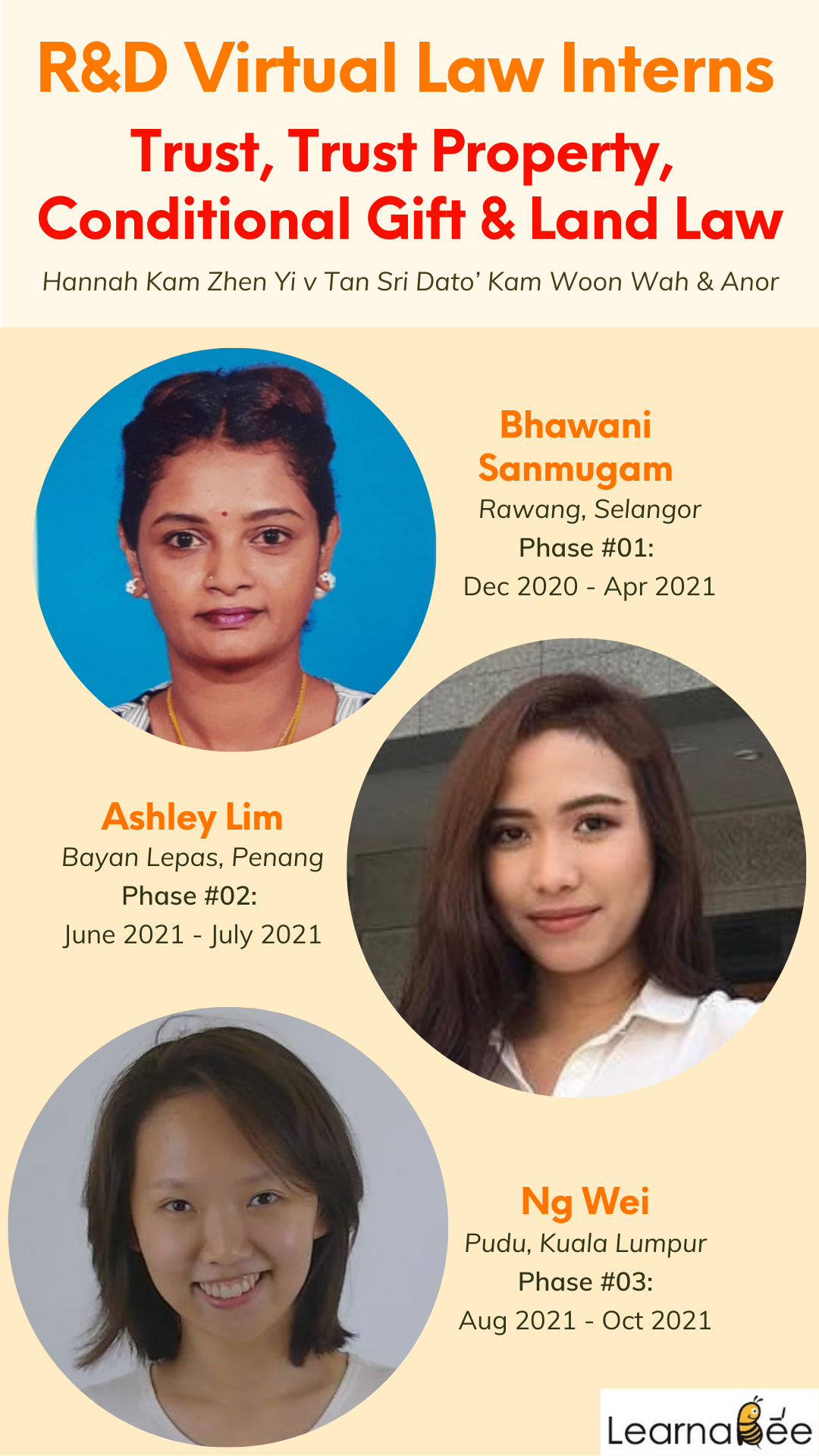 Meet our virtual law interns who were involve in R&D.
Phase 01 is Wani
Phase 02 is Ashley Lim
Phase 03 is Ng Wei
The project started Dec 2020 and after 11 months of start-pause-resume-restart mode, finally, we are able to launch Oct 2021. 🥳
See you inside paid area soon !!!
Payment is inclusive of

Unlimited Replay
Unlimited Download of Presentation Slides & Notes
Certificate of Completion to manually claim your CPD/CPE points.
No Jam. No Parking. No Virus.

Learn Online. Bee Happy. 🐝🌼
Your Instructor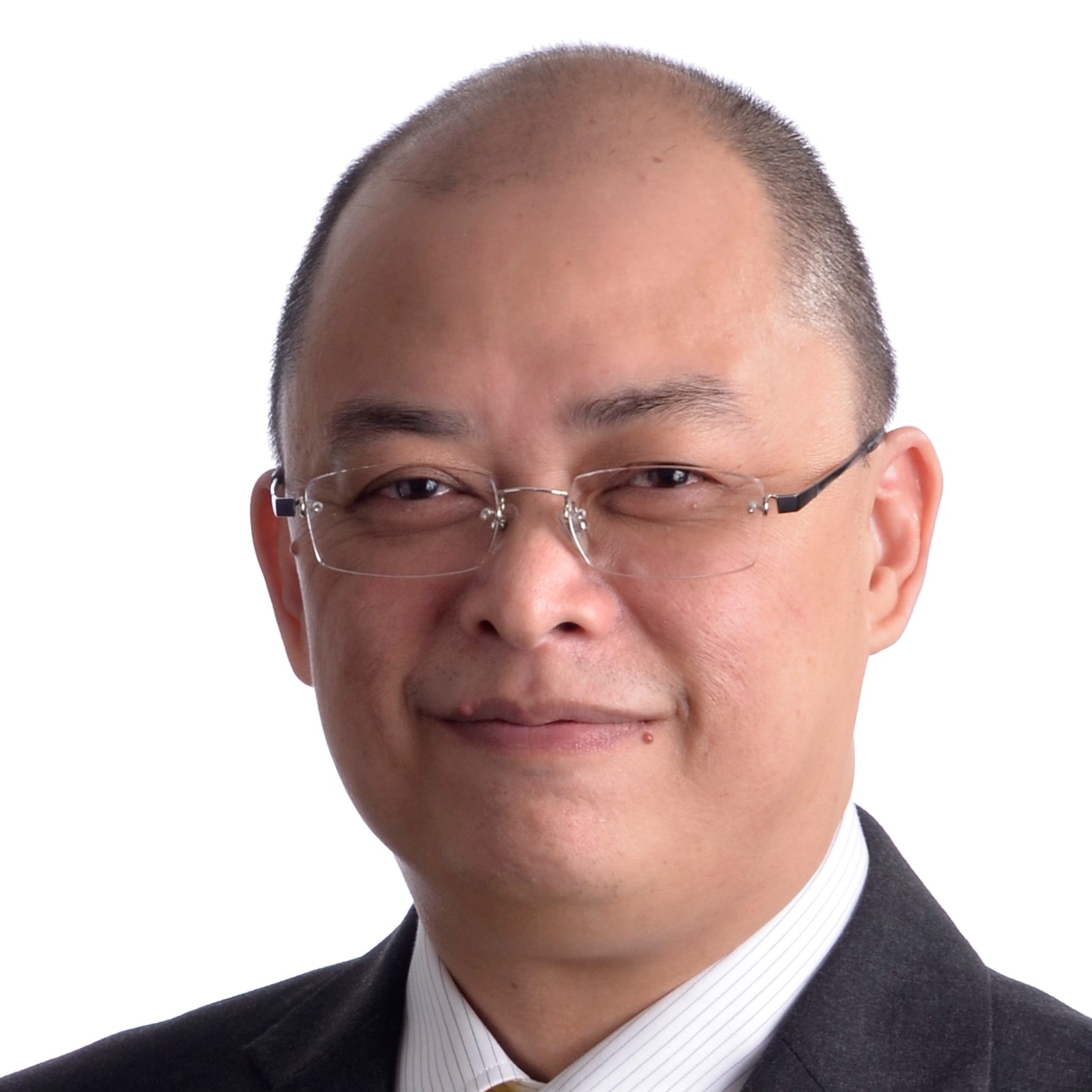 En. Azhar Iskandar Hew is the Deputy Chief Executive Officer of Rockwills Trustee Berhad and holds the Bachelor of Laws (Honours) degree from the University of London. He is a Director of Rockwills Advisory Services Sdn Bhd. He is also a member of the Society of Trust and Estate Practitioners (STEP) and is an Associate Financial Planner (AFP) holder.
He has more than 18 years experience in the estate planning industry as a will & trust specialist, trainer and conference speaker. Over the years he has trained more than 10,000 people primarily from leading financial institutions and life insurance companies as well as financial planners in Malaysia, Hong Kong and Singapore.
He is approved by Securities Industry Development Centre (SIDC) as a facilitator to conduct estate planning training and is an Estate Planning Trainer for Certified Financial Planning (CFP) as well as a facilitator for estate planning courses organised by The Federation of Investment Managers Malaysia (FIMM).
His current scope of work includes advising on legal aspects, compliance and advisory matters regarding Estate Planning and Private Trust services. He was a regular article contributor to Smart Investor and Malaysian Business on the areas of Estate Planning and Private Trust.
Course Curriculum
Training Materials
Available in days
days after you enroll
Training Videos
Available in days
days after you enroll
Reading Materials
Available in days
days after you enroll
Frequently Asked Questions
Language Available ?
English Only
Payment
One Time Off, No Annual Fee, No Renewal Fee.
Payment Method
Credit Card or Online Bank In
Venue & Access
100% Online Learning, 24/7 Anytime, Anywhere.
Supported Devices:
Desktop, laptop, smart devices & smart phones (iOS and Andriod supported).
Am I Allowed to Post Questions to Trainer After Live Webinar ?
Yes
How many times can I view the video replay ?
Unlimited Replay of Training Content.
Are the Video & Training Materials downloadable ?
Yes. You will enjoy Unlimited Download of Video & Training Materials.
Do You Issue Certificate of Completion ?
Yes, upon completion, you can download the Certificate of Completion.
Will you update the training from time to time ?
This is not a guaranteed benefit when you sign up but we will try our best., You will receive UpToDate Training Content whenever the trainer feels necessary to do a follow up webinar.
Sign Up Now ... See you "inside" the paid area soon !
We highly encourage you to pay via credit card for instant access to the content.
However, you have the option to pay via online bank in method, Click Here for Instruction to Pay Through Bank
---
Hi, My name is EvannaMiss8. I am a One Leg Kick , Happy go Lucky Organiser & Producer of Webinars & Online Training for Professionals, Directors & Management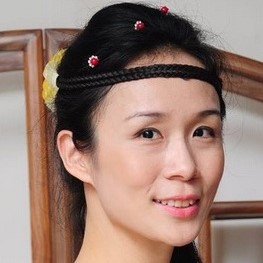 If you are still blur blur about this webinar, no worries ya ... you may contact me directly using any of the below methods
Email: [email protected]
Whatsapp: +6012 203 8046
Facebook: https://www.facebook.com/learnabeeOfficial/
Bee Happy, Learn Online ...
Important Note: If you want to download the Certificate of Completion at the end of this course, please make sure the FULL NAME you key in is 100% Accurate ya ...