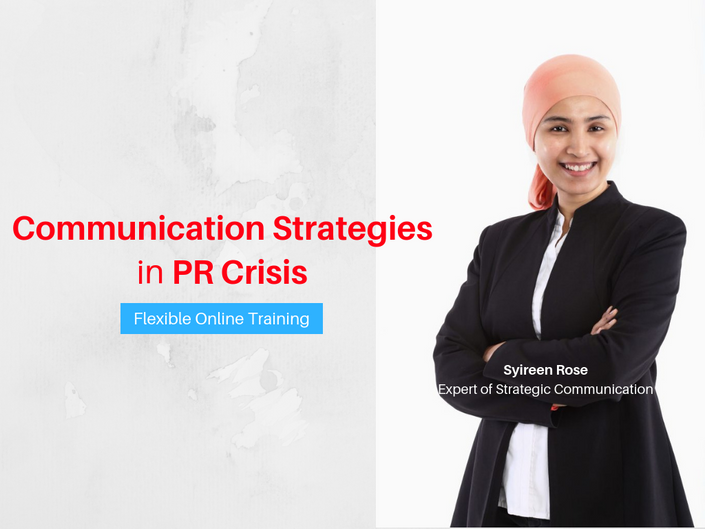 (English) Communication Strategies In PR Crisis by Syireen Rose (Peaches & Pen)
Everything you need to know about Communication Strategies In Crisis Management for Your Business & Brand
Watch Promo
Introduction:
With the rising trend of social media, we see many well-known & reputable brands being thrown into publicity for the wrong reason. Especially when it triggers public anger on sensitive issue such as Race, Religion, Gender, Politics etc ... Whether it involves highly publicised lawsuit, insensitive comments or a bad product review, they suddenly need to handle the crisis and scandal which went viral overnight ...

If you strategize it right, your brand will turn crisis into opportunity.

If you strategize it badly, you brand will go Holland. wakakaka ...

To help business, brands & professionals, I will hosting a live webinar with Syireen on Communication Strategies In PR Crisis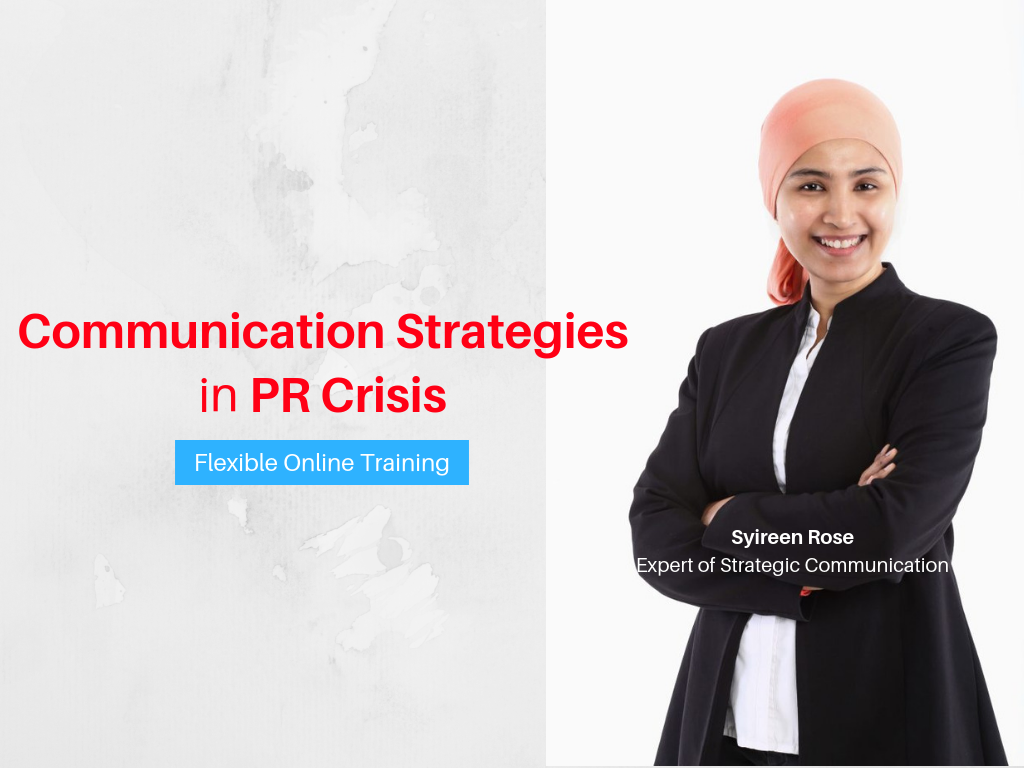 There are many strategies & choices for a business or brand
* Lost of Memory & Deny Everything
* Counter sue others for Defamation
* Defend & Justify
* Admit & apologise
* Be transparent on the fact
etc many more
Attend our live webinar and learn more ...

---
Great News ! This is a sponsored webinar.

Enrol Now to get all the below goodies for FREE

Attend Live Webinar if you are free on the above mentioned dates
Video Replay if you can't make it for our Live Webinar
Certification of Completion
Yes, Absolutely FREE if you ENROL NOW !
Bee Happy, Learn Online ...
Important Note: If you want to download the Certificate of Completion at the end of this course, please make sure the FULL NAME you key in is 100% Accurate ya ...
Bee Happy, Learn Online ...
---
In this webinar, I will ask Syireen a few questions

1. Why is Crisis Communication Strategies & Plan Important ?

2. Who are involved in a Crisis Communication ?
3. When should Crisis Communication be done ?
4. Where it should be done ? Social Media, Press Conference etc ?
5. What does a Crisis Communication Team Do ?
6. How to Strategize and Implement Social Media Crisis Communications ? What to do, what not to do in Crisis Communication
7. Sharing of Case Studies
7a. Successful Crisis Communication Strategies & Moral of Story
7b. Failed Crisis Communication Strategies & Moral of Story
8. Interactive Q&A Session (30 mins)
---
See you online veli berry soon !

Your Instructor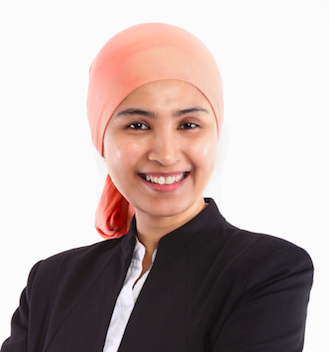 Professional Profile
Syireen R has more than 20 years of experience in the Communication field. Her vast experience showcases career practices ranging from the corporate desk, to print publications, the academia, training, consultancy and coaching. Syireen's core strength is in editorial. Her exposure to public relations and corporate communication cemented her insights into the conceptualizing and strategizing of communication plans. She now offers coaching to C-Suites and Business Owners, occasionally conducts workshops and training programs, and speaks to entrepreneur associations/groups as well as graduating college students.
Experience
Corporate & Media
Syireen's experiences include:
Content development that supports the IT industry, namely web copy and blogging.
Creative copywriting for PR and Advertising agencies.
She contributes articles to magazines and newspapers.
Develops content for GLCs for their content circulation.
List of past and present clients includes:
TalentCorp Berhad
University of Malaya
Tadika ABS
Advanced Aquatics
SciDev.Net
Malaysian Reserve
National Human Resource Centre (NHRC)
TNB
Sime Darby
CIDB
Karangkraf
The Edge
GreenTech Malaysia
and several other organizations
Initial professional employers include Malaysian Technology Development Corporation and Ivoli Sdn Bhd.
The Academia – Lecturing
Syireen was a lecturer for Taylor's College for 4 years, considering the career purposeful as an effort to contribute towards nation building. She participated in several college projects including the UnBoxed, which she founded and chaired.
Other communication projects she undertook while in Taylor's College are: the Communication Weekend 2005, Activate – the National Community Project Competition 2007 and 2008, Taylor's School of Communication Symposium in Conjunction with UniSA School of Communication and New Medias 30th Anniversary 2007, Taylor's Teaching and Learning Conference 2008 and SOC Media Carnival.
Syireen was the main lecturer advisor for major student Communication Campaigns including the SexEd: Learn in Right (2005), Anti Depression and Suicide Awareness Campaign (2005), Save the Corals Campaign by Coral Alliance (2006), Dance Safe, Don't Dance Drugged Campaign (2006), A Campaign About Love: Embracing Women (2007), Stop Child Sexual Abuse: Treat Them Right Campaign (2007), and 'The Return': Save the Turtle Campaign (2008).
Domain Knowledge
Syireen's skill is in written communication and strategizing communication plans with subset skills that include content research and development, content development and translation. She is also experienced in public and media relations. With her lecturing and media consultancy background, she is also well versed in conducting training. She recently underwent and international program: Instructor's Training Program to further hone her leadership and public speaking skills.
Others
Syireen was a council member to the Society of the Severely Mentally Handicapped Wilayah Persekutuan & Selangor (SSMH). She has actively contributed her services to the society for 5 years and was invited to be part of the council team in 2013. She withdrew herself from the council in 2017 due to increasing commitments that requires travel time. She still supports the society as a ordinary member.
Syireen was also the council member of the Association of Bumiputera Women Entrepreneur Network of Malaysia (WENA) from 2012 – 2015, which is a not-for-profit association that focuses on the empowering and developing of women entrepreneurs, through training and networking opportunities with government and non-government agencies, financial institutions, and other NGOs. WENA also seeks to collaborate with GLCs and MNCs alike.
She is a member of BNI, an international networking group that spans over 73 countries with over 7,000 chapters worldwide. It boasts over 250,000 members worldwide. Syireen currently holds the position of BNI Director Consultant for BNI KL Metro Region that includes the areas of Kuala Lumpur South East and KL City Center, and is currently serving as the President for the BNI Sukses Chapter – Bangi. She is also a BNI Trainer, providing BNI related trainings to members.
Syireen and partner were offered the BNI Region in Shah Alam and currently developing the area for year 2017/2018.
Training & Coaching
Syireen and team developed an excellerated program called Branding with Words, that is a 2-Day program that immerses participants into the power of words and how understanding essence can contribute immensely to Branding.
The program is focused on experiential learning including music, colours and games into the creation of content, enhancing the left-right learning capacity.
To cement the learning, coaching programs are offered as a follow up to supporting the participants to implement the learning into their business.
Networking & Leadership
Syireen also delves into networking and leadership training due to her experience and exposure to entrepreneurship and managing approximately 500 business owners in her capacity as Director Consultant and Regional Director in BNI.
The roles has enabled her to create content and provide multiple support for members to get clear on the different facets a business owner need to grow their business.
She is also the only 1 out of 3 trainers nationwide trained to provide members the most crucial content in BNI upon embarking on the membership journey.
Background
Full Name:
Syireen Rose Mohamad Sha'ari
Qualifications:
MSc. Corporate Communications (2000)
Universiti Putra Malaysia
BJournalism (1996)

University of Missouri Columbia, USA
School of Journalism
Course Curriculum
20190429 Communication Strategies In Crisis Management on Social Media Scandal for Your Business & Brand
Available in days
days after you enroll
Frequently Asked Questions
Language Available ?
English only
Payment
One Time Off, No Annual Fee, No Renewal Fee
Payment Method
Credit Card or Online Bank In
Venue & Access
100% Online Learning 24/7 Anytime, Anywhere
Supported Devices:
Desktop, laptop, smart devices & smart phones (iOS and Andriod supported).
Am I Allowed to Post Questions to Trainer After Live Webinar ?
Yes
How many times can I view the video replay ?
Unlimited Replay of Training Content
Are the Video & Training Materials downloadable ?
Yes. You will enjoy Unlimited Download of Video & Training Materials
Do You Issue Certificate of Completion ?
Yes, upon completion, you can download the Certificate of Completion
Will you update the training from time to time ?
This is not a guaranteed benefit when you sign up but we will try our best., You will receive UpToDate Training Content whenever the trainer feels necessary to do a follow up webinar.
Sign Up Now ... See you "inside" the paid area soon !
We highly encourage you to pay via credit card for instant access to the content.
However, you have the option to pay via online bank in method, Click Here for Instruction to Pay Through Bank
---
Hi, My name is EvannaMiss8. I am a One Leg Kick , Happy go Lucky Organiser & Producer of Webinars & Online Training for Professionals, Directors & Management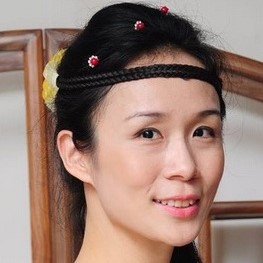 If you are still blur blur about this webinar, no worries ya ... you may contact me directly using any of the below methods
Email: [email protected]
Whatsapp: +6012 203 8046
Facebook: https://www.facebook.com/learnabeeOfficial/
Bee Happy, Learn Online ...
Important Note: If you want to download the Certificate of Completion at the end of this course, please make sure the FULL NAME you key in is 100% Accurate ya ...