(English) Benchmarking your Board, Committees and Individual Director
Total Training Duration : 1 Hour 30 Minutes
Watch Promo
The webinar is FREE & Open to Public.
For FAQ, click this link 👉 https://www.learnabee.com/p/faq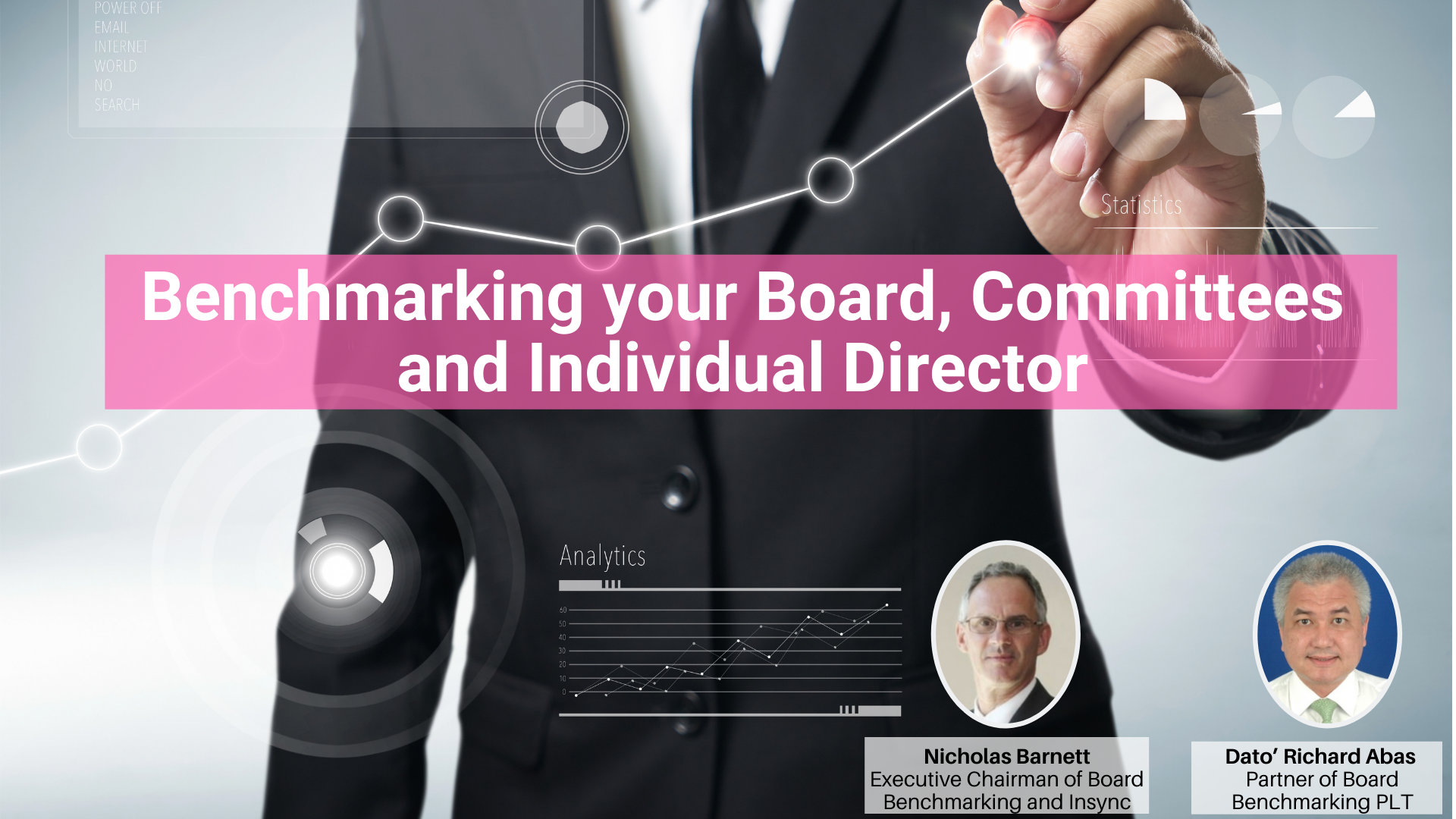 Upcoming Webinar: 1 December 2021, Wednesday
Title: Benchmarking your Board, Committees and Individual Director
Speakers: Nicholas Barnett & Dato' Richard Abas (Partner of Board Benchmarking PLT)
If you can't join our live webinar, no worries, we have replay for you.

Once you sign up, you will get:
Unlimited Replay
Unlimited Download of Presentation Slides & Notes
Certificate of Completion to manually claim your CPD/CPE points.
Webinar Outline
Better Boards means Better Organisations. Periodic reviews of the quality and operations of Boards , individual directors and sub-committees are becoming commonplace. They are undertaken by company secretaries and independent consultants.
Board Benchmarking PLT offers a service to company secretaries and organizations to facilitate and organize such evaluations
The recent 2021 refresh of the Malaysia Code of Corporate Governance has increased the requirements and scope of Board and Director and sub committee evaluations
BNM sets similar requirements for Financial Institutions under her purview
SME and non-profit Boards are also encouraged to improve their Governance by undertaking reviews
Benchmarking Boards against other entities and organisations gives a better view of how entities perform against peers and against global best practises
Deliverables and learning outcomes:
Learn what is Global Best practises for Board and Director Evaluations and Benchmarking
Understand how you can help your clients and Boards to undertake and perform these services
Test the online service and receive a sample report
It is not just for Bursa PLC. See how this can benefit SME, Not for profits, Societies, Associations.
No Jam. No Parking. No Virus.
Learn Online. Bee Happy.🐝💐
Speakers' Profile
Speaker 1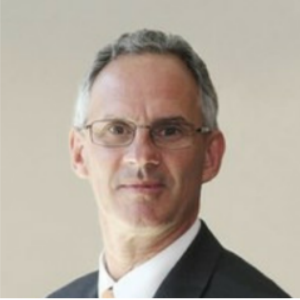 Nicholas Barnett
Nicholas is a governance expert and experienced practitioner, and has been a director, business leader and consultant for over 35 years.

Nicholas is Executive Chairman of Board Benchmarking and Insync, a former chairman of Ansvar Insurance, First Samuel and Ambit Group, a former director of Mission Australia and Stillwell Motor Group, and a former partner of KPMG. He is also a Fellow of the Australian Institute of Company Directors (FAICD).

Nicholas is also an author, speaker and expert media commentator in relation to governance, organisation culture and gender diversity. He has written numerous governance articles and three books on leadership, culture, engagement and transformational change.

As Executive Chairman of Board Benchmarking which he co-founded in 2005, Nicholas led the development of Board Benchmarking's first Board Effectiveness Survey and benchmarked report, and has overseen its improvement and upgrade since, including a significant review and validation process with the assistance of Deakin University in 2019/20.

Board Benchmarking is not aware of any other benchmarked Board Effectiveness Survey in the world that has such a well-regarded framework (WhatWhoHowDo), has been through such a rigorous psychometric validation process and which has identified and uses the 20 most important factors that are required for a board's effectiveness.

Nicholas has personally performed around 150 board reviews, all of which have involved the use of Board Benchmarking's world-class benchmarked Board Effectiveness Survey and most of which also involve director and executive interviews and a separate report with insights and recommendations. Separate Director Effective Surveys or Scorecard are also incorporated as part of most such reviews.

As well as conducting around 150 board reviews Nicholas has assisted Board Benchmarking's Board Advisory Partners to help their clients interpret and act on the results of in excess of another 120 board reviews. For several of those reviews Nicholas has joined the Board Advisory Partner in providing a presentation to the relevant Chair, Chair of the Governance Committee and/or to the relevant board.

Nicholas lives with his family in Melbourne, Victoria, Australia
Speaker 2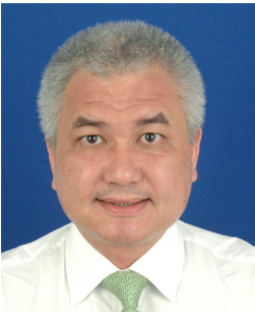 Dato' Richard Abas
Dato' Richard Abas is a Partner of Board Benchmarking PLT.
Dato' is a registered company auditor. His family firm, Abas & Co, celebrates fifty years of service in 2021.
Dato' is the Chairman of the Protem Committee of LLP Compliance Officers , Malaysia.
Dato' has served as a Director of nine separate Bursa listed companies in the past thirty years. Dato' was the Audit Committee Chair of Silver Bird Group when fraud was discovered until the company collapsed
Dato' has performed Board and Director evaluations in Malaysia with the Malaysia Directors Academy (MINDA) now evolved as the Institute of Corporate Directors Malaysia (ICDM)
Dato' was the first Asia Councillor to be elected to the Global Council of Chartered Accountants Australia New Zealand (CAANZ) from 2016 to 2019
Insync Australia interviewed Dato' Richard as part of Insync engagement to evaluate the Board of CAANZ
Course Curriculum
20211201 (English) Benchmarking your Board, Committees and Individual Director
Available in days
days after you enroll
Training Material
Available in days
days after you enroll
Frequently Asked Questions
Language Available ?
ENGLISH Only
Venue & Access
100% Online Learning, 24/7 Anytime, Anywhere.
Supported Devices:
Desktop, laptop, smart devices & smart phones (iOS and Andriod supported).
Am I Allowed to Post Questions to Trainer After Live Webinar ?
Yes
How many times can I view the video replay ?
Unlimited Replay of Training Content.
Are the Video & Training Materials downloadable ?
Only PDF training materials are downloadable. MP4 Video Replays are non-downloadable.
Do You Issue Certificate of Completion ?
Yes, upon completion, you can download the Certificate of Completion. Syiok Leh ?!
Will you update the training from time to time ?
This is not a guaranteed benefit when you sign up but we will try our best., You will receive UpToDate Training Content whenever the trainer feels necessary to do a follow up webinar. Happy Leh ?!
Sign Up Now ... See you "inside" the paid area soon !
We highly encourage you to pay via credit card for instant access to the content.
However, you have the option to pay via online bank in method, Click Here for Instruction to Pay Through Bank
---
Hi, My name is EvannaMiss8. I am a One Leg Kick , Happy go Lucky Organiser & Producer of Webinars & Online Training for Professionals, Directors & Management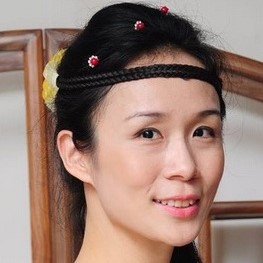 If you are still blur blur about this webinar, no worries ya ... you may contact me directly using any of the below methods
Email: [email protected]
Whatsapp: +6012 203 8046
Facebook: https://www.facebook.com/learnabeeOfficial/
Bee Happy, Learn Online ...
Important Note: If you want to download the Certificate of Completion at the end of this course, please make sure the FULL NAME you key in is 100% Accurate ya ...